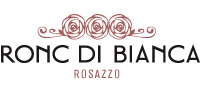 Luigi Nadalutti always had a passion for making wine. In 1961 he moved his family into the beautiful Villa Sandrinelli, at the time the property of Flora Flavio. Today this lovely country home is still nestled in the captivating and historically important hills of Rosazzo between olives, roses and grape vines.
The secret skills of this grand passion, mastery, and dedication were  passed on to his daughter Bianca who in 1982 acquired the adjacent house and lands to further the legacy of her father. In honor and recognition of her enormous Friulian fortitude and refined expertise, the company took on the name 'Ronc di Bianca.'
Today her legacy has passed to Simone and his family, the current generation to carry on the family tradition.