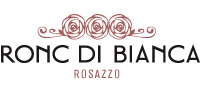 A selection of great quality wines with a decisive personality render homage to the traditions of winemaking over the years, bringing elegance and the characteristics of the best varietals of the area known as the 'Colli Orientale del Friuli.'
The oldest vines are cultivated in the 'upside-down' style, whilst newer varietals are  planted in the Guyot style, in order to obtain a low yield of grapes per hectare. The rare microclimate, attention to grafting techniques, and a careful selection of the best grapes give rise to a limited production of fresh white wines in stainless steel tanks, and robust red wines aged in 500 liter French oak barrels. In this place the grapes mature at their own pace, depending on nature alone, and are lovingly harvested by expert hands to maintain all their intrinsic qualities intact.
When man tends the soil respectfully, the fruits of his labor are unique. The vineyards of Ronc di Bianca offer a collection of labels of genuine wines that with every sip reflect their authenticity and fully engage the senses.